POD - Personal Observatory Dome
When I began using a telescope, it was with an 8" Dob. Setup time is nil, and portability is a snap. Of course, as is often the case with backyard astronomers, I wanted another telescope. One that was different, for different tasks. And so I purchased an 8" SCT. Of course, an SCT requires a bit more time in order to set up and take down, so there were times when I was tired that I did no observing, because I couldn't face the setup and takedown. I also began experimenting with imaging through the scope, which means a whole new realm of gadgets and wires to connect.
What I really needed was a place where I could leave all this set up, so I could use it at short notice, and not worry about takedown time. In other words, I needed an observatory. This was going to be a whole new level of commitment...
I considered my options - prefab vs. home-built, dome, roll-off, clamshell, plastic, wood, stone... and the list goes on. What was a budget-minded astronomer to do? After much consideration, I had decided that some variant of a roll-off shed would best suit my needs, and I began some preliminary sketches. One of my concerns with the roll-off design was wind - in winter the roll-off provides only minimal wind protection. I looked at domes, but I didn't like the idea of a slotted dome, because I like looking out at the sky, something that is not part of the experience of a typical dome.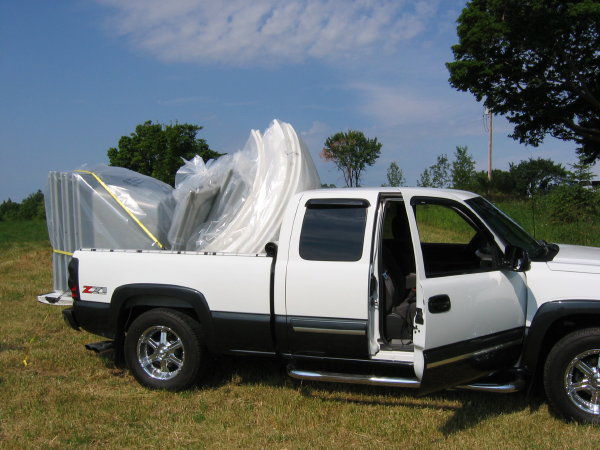 I knew SkyShed had a CD of shed plans, so I checked out the site and noticed a small banner announcing a new kind of prefab observatory that would be inexpensive, and have the benefits of both the Sky Shed and a traditional dome. Well, it sounded right to me. So for the next year I followed the progress and development of the SkyShed POD. In March of 2007 I had an opportunity to get a "sneak peak" at a beta POD. Wayne and Alain brought one to Efston Science on a Sunday, for the purpose of testing as many scopes as possible in the POD to see how they fit, and to photograph them. I volunteered to help out, and so spent a day hauling scopes in and out of a POD. At that time I was impressed at how sturdy it was.
I purchased my XL3 when they went on sale for Canadian buyers in May of 2007, and I took delivery, with the help of my friend Pete, at the start of July. Pete is a very useful sort of friend to have, because not only is he very good at construction of all sorts, he also owns a truck. And my dark sky site is only 35 minutes from the factory where the PODs are made...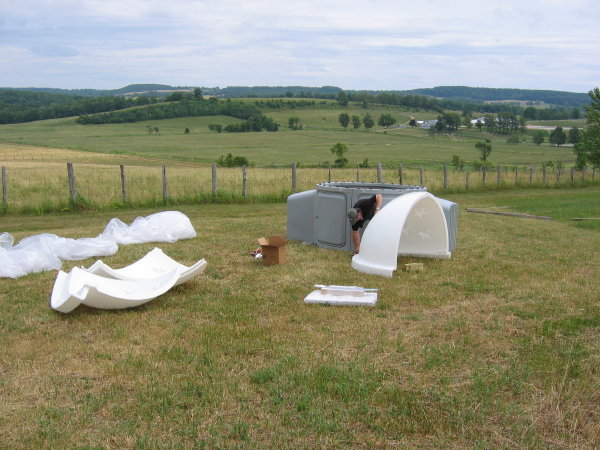 We did the initial setup on the ground, and I dropped in the wooden tripod. I spent some time experimenting with both height and offset, in order to determine what would work best for me. After settling on acceptable mount height and offset, I set about designing a deck.
Initially I thought I would use a concrete slab. It is fairly inexpensive, and vibration free, but it is very cold in the winter, damp in the summer, and is guaranteed to break any eyepiece that falls. A wooden deck allows more airflow to prevent condensation, and doesn't suck the heat from your feet in winter. It is also somewhat less permanent, should I decide to move it elsewhere. I drew up plans for a wooden deck using deck blocks - economical and straightforward to build.
After much thought, I settled on a wooden pier as well - almost as rigid as a steel pier, but a fraction of the price, and less concrete required to anchor it. And so the next phase began...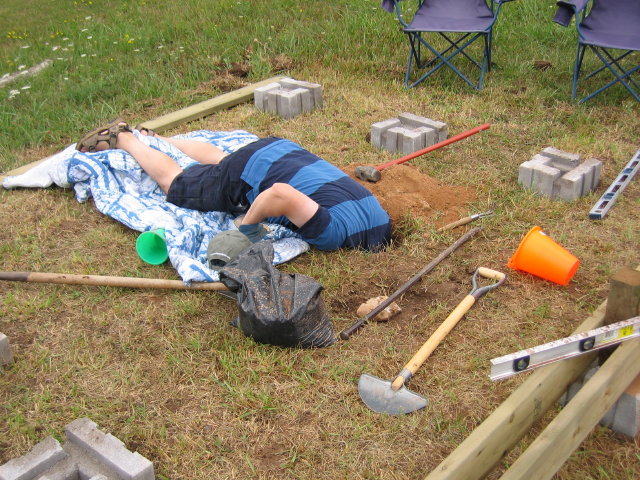 Construction started, as it usually does, with a hole in the ground. Being cheap, we dug by hand. At about 30" down we hit one mother of a rock, and had little choice but to shift the hole southward - fortunately only by a few inches. Down to three feet, the earth was so packed that digging became impossible (well, really really hard), so we stopped there. We bolted 4 5x5 posts together to make on 9x9 wooden pier and sunk it in the hole. We positioned the deck blocks, and built the frame up around the pier, then anchored the pier to the frame (temporarily)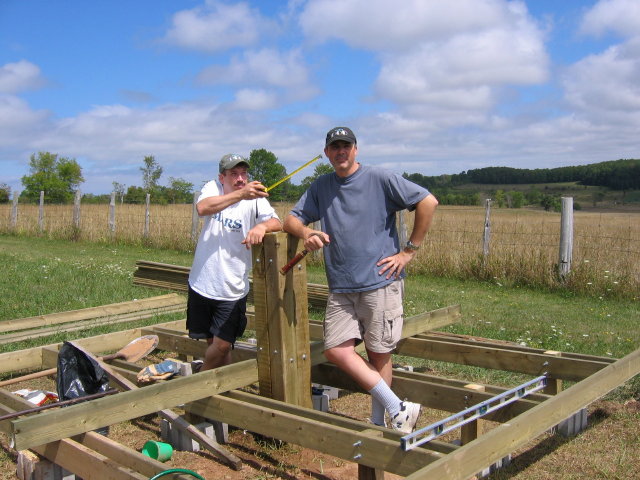 while we cemented the pier to the aforementioned giant rock at the bottom of the hole with the help of a bag of quickcrete.
We covered the deck frame with screen before laying in the decking. I left a gap of about 1.5" all around the pier, so if anything shifted there would still be no contact.
Moving the POD to the deck was no problem, since all the fiddly bits (roller wheels, dome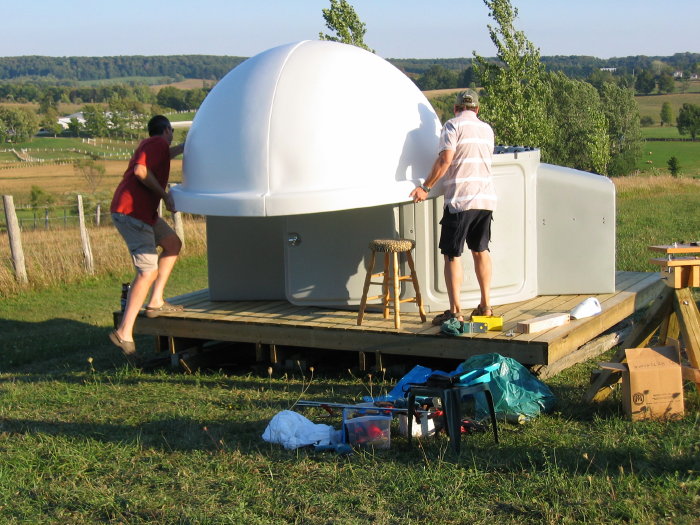 halves) had already been assembled once. And as night began to fall, I finally attached the cap to the pier (which required some emergency routering by flashlight in the fading light), and plopped on the wedge and scope.
For some strange reason, the clouds didn't roll in.

That first night in the POD's permanent home was wonderful. The family had a campfire going nearby, and kids and grownups kept wandering in and out of the POD. I found I could point things out to three people in the open half of the dome, while a fourth looked through the scope. Five people, comfortably, in the POD. And everyone can see. For an observatory that size, that's pretty amazing.
But the tinkering never ends...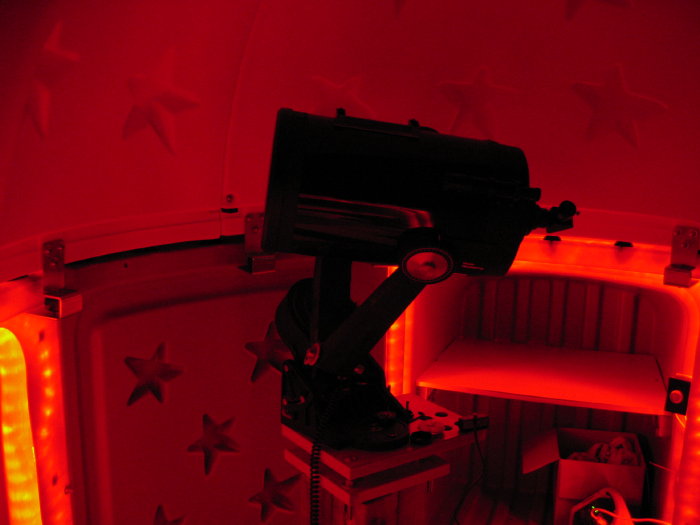 The bays are great, but having to move my flashlight around was getting tedious, so I decided to install some lighting. After Christmas I picked up a few things on sale. I bought three strings of red LED Rope lights, and a battery pack with built-in inverter - all on sale at Canadian Tire. The lights I wedged up around the bay openings, so that they illuminate the bays, but don't shine in my eyes when I'm at the scope. A dimmer allows me to adjust them from full brightness to almost nothing.
The first scope I mounted in the POD was an old 10" SCT, but I replaced this with my C8, which has much MUCH better optics. The next step is to replace the fork mount with a sturdier GEM, which will allow longer exposure imaging.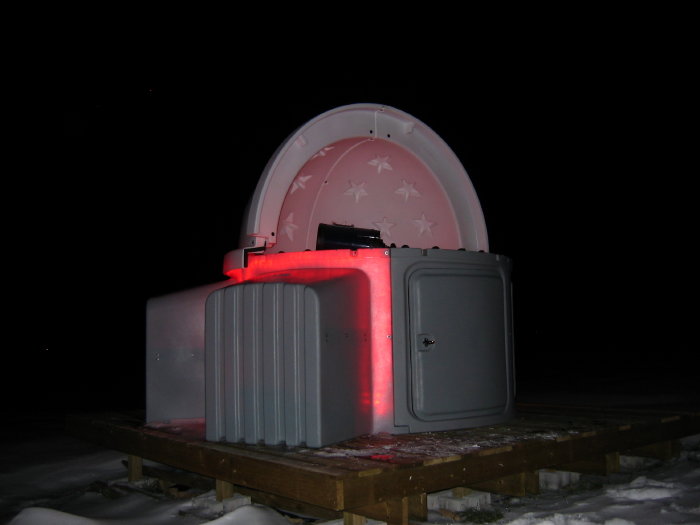 I am very happy with the POD, and I am not just saying that to justify the single most expensive piece of equipment I've purchased. I'm saying that because it lets me observe on short notice and leave my equipment setup when I am done for the night. I'm saying that because it blocks the wind, and still lets me see half the sky. I'm saying that because it reduces radiative cooling of my scope, slowing the formation of dew on the corrector. And I'm saying that because my family and friends all want to come in and have a look, which is wonderful.
As I mentioned, my POD is the single most expensive astronomy item I have purchased. It came to about $2000, with taxes and gas (we picked it up from the factory). The deck, blocks, and pier were another $800. So it was a fairly substantial investment. But it will last, and it will get used, and it will allow me to enjoy my hobby more. And doing some rough calculations, it was about a thousand dollars cheaper than if I had built a structure from scratch myself. So on the whole, money well spent.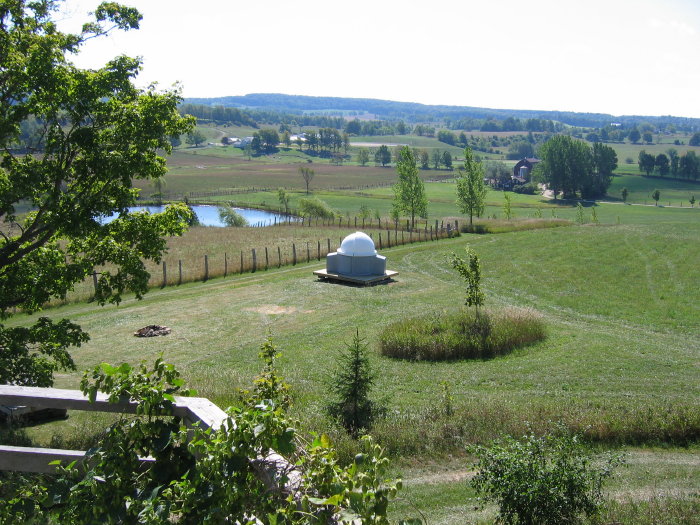 ---