Finders
Another accessory that is important for the full enjoyment of your scope is the finder. This is a device to help you point the scope where you want it in the sky, before looking through at higher powers. There are a number of different styles.
Straight-through finders
These are just small scopes, often with a fixed-focus. The viewer usually includes crosshairs to help pinpoint the target. Many beginner scopes come with small (5x25) finders. These are generally poor for locating objects. A larger finder, such as a 9x50, is recommended. Most straight-through finders produce a reverse image. This takes alittle getting used to, but on the other hand, it provides the same orientation as the image seen through a Newtonian telescope. Finders that produce an upright image can be found, but they are more expensive as they require extra lenses.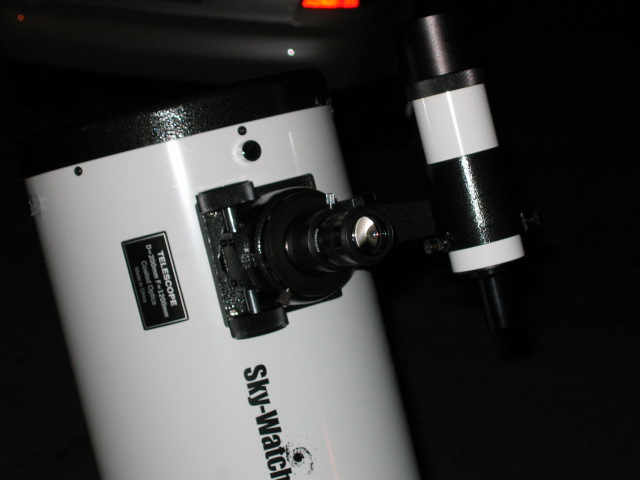 The Author's scope with a 9x50 finder
Right-Angle finders
The eyepiece of most scopes is mounted at 90 degrees from the optical axis. Some people don't like turning their heads constantly when switching from finder to eyepiece, and so use a finder with a right-angle mounted eyepiece. This enables them to jump back and forth easily. Right angle finders are also available that produce an upright image, again at a premium. One problem is that it is hard to get the big picture of where you are pointing in the sky when you are looking towards the ground, so often a unit-power finder is required as well.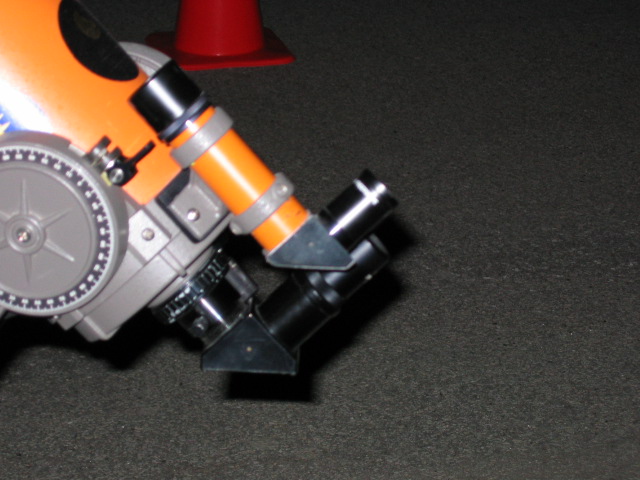 Right angle finder on Dr. Ralph Chou's 5" Schmidt-Cassegrain. (sorry about the focus, Ralph!)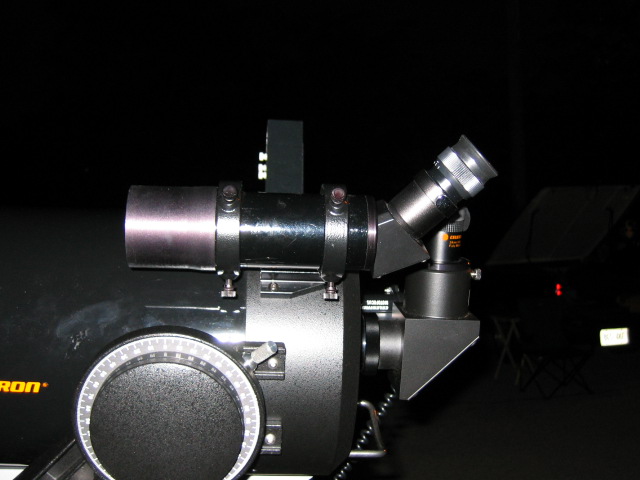 45 degree Correct Image finder on Denis Grey's Schmidt-Cassegrain
Unit-power finders
These may be anything from a simple gun sight to small windows with projected finder circles. The allow you to see easily where in the sky your scope is pointing. Since most modern unit finders use a red light reflected on a small window, the view of the sky is actually dimmed, sometimes making it harder to find objects in urban skies.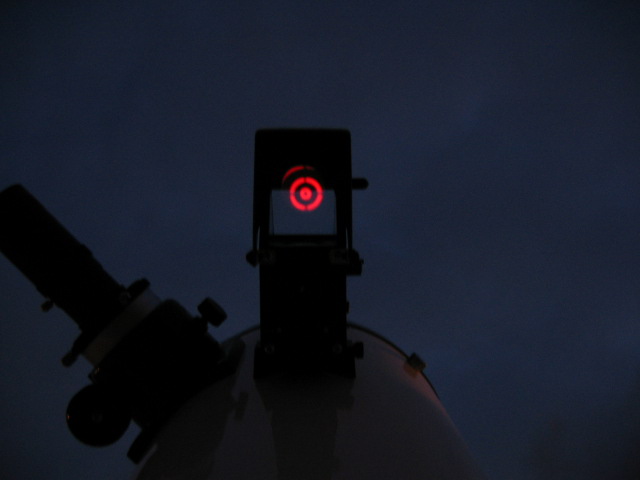 A view through a Telrad, showing the projected circles. 8" Dob owned by Diane Shukla.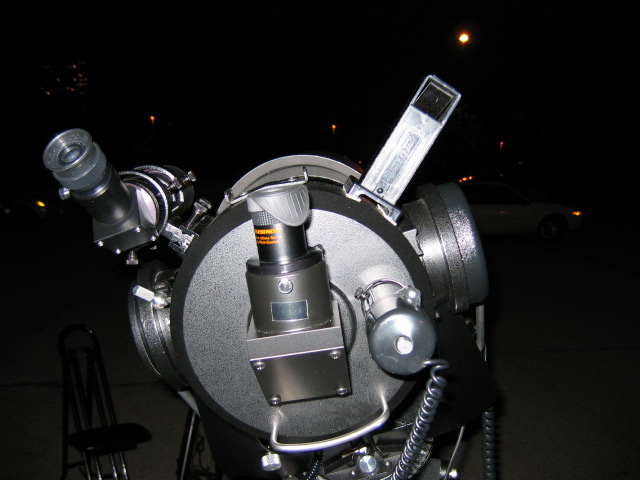 Denis' scope again, showing both the 45 degree finder and Rigel Quickfinder
Recommendation
My preference with my Dobsonian reflector is to use a straight-through finder, and learn to use the two-eye method. With this, you look through the finder with one eye, but keep both eyes open. You can quickly learn how to superimpose the two images, placing the cross-hairs in the finder seen in one eye on the real sky seen in the other. Once in position, you can close the "real sky" eye, and fine tune your position with the finder. Some people prefer to use a unit finder and a wide-angle eyepiece.
With my Schmidt-Cassegrain scope, I find the straight-through finder to be terribly awkward, and a unit finder only gets me close. So, I use a Telrad unit finder and right-angle, correct image (RACI) finder. Since the scope is mounted equatorially, the image in the RACI finder matches what I see on the star charts!
The type of finder that is most comfortable (and intuitive!) for you to use is the one you will be most happy with. If you have a chance, try out various finders at a public star party, or even at your local telescope store, to see which is best for you.
---